An atmosphere inspired by the Scandinavian style │ Style game # 6
11 May 2019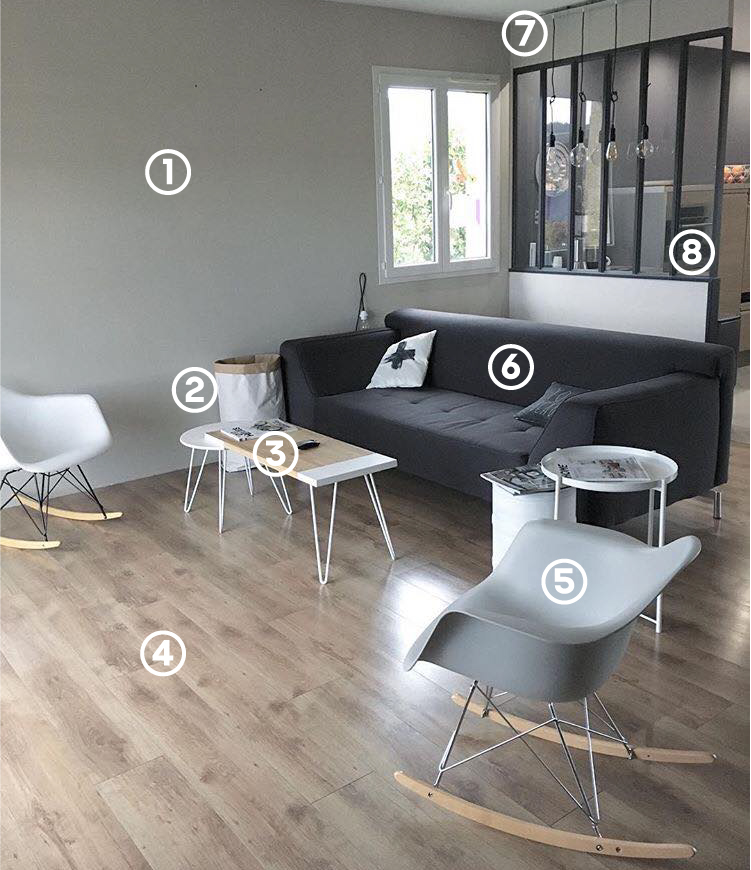 The color of the walls, light gray, with nuances for cocooning

The recycled paper trash can, transformed into storage for throws!
The wooden coffee table with its white hairpin legs: simple, airy.

The warmth of parquet, with its yellow tint.
Rocking chair for relaxing reading a book and having a coffee!
The gray sofa and its style so typical of the great Swedish brand, with the reminder of the color on the cushion! Color harmony is MUST
Floor lamps: Very trendy, their vintage style combines with metal to create modernity
The glass roof: combining clarity, metal but also roundness of the lamps to give a soft warmth.
WHY DID YOU CHOOSE THIS EXAMPLE OF ATMOSPHERE ?
Because it perfectly shows how the subtlety of materials, furniture and colors can create a refined and warm style, inspired by the Scandinavian style which has become very widespread and we understand why: warmth, cocooning, harmony. It's quite a nice atmosphere at home!
In this example of a living room, what I like a lot is the mixture of small details: there is notably the vintage of the floor lamps, with the steel canopy, to counterbalance the heat of the parquet. The search for harmony also, with the choice of colors: the association of white, with a palette of gray on the walls, the sofa and the rocking chairs.
The heights too, we don't think about it enough, but playing on different furniture heights allows the light to diffuse differently and create a unique, non-uniform interior.
FEET TOO!
And yes, this is where we see that the feet are not just the bases of a piece of furniture, they have a real role in decoration. The hairpin foot has become a classic and yet it does not lose its style or elegance. It is perfect for adding lightness to an interior. The choice of color will reinforce its functionality: white it will enhance the airy, the harmony as seen in the example photo.In gold or copper, it is the pep that we will press. In raw, it is the authenticity, the highlighting of the material that we will strengthen.


To find the pin foot:click here
To visit our instagram : click here