DIY THAT ENCOURAGES INSTAGRAM!
12 February 2019
More than 96,000 people follow Fee.maison on Instagram, behind this account dedicated to decoration is Sophie who has been sharing her passion for DIY and interior design with the whole community for 3 years. Back on this atypical journey where nothing destined the founder to become a recognized influencer.
YOU ARE INFLUENTIAL, AND YOU SEEM TO STILL WELL ANCHORED ON EARTH?
I am a specialized educator for children with intellectual and behavioral disabilities with whom art is a therapeutic axis that I use a lot: touch, manipulate, create, tinker. The passion for DIY, I received it from my dad with whom I made my first creations and who passed on to me the passion to make great things with his hands, with raw materials and to be proud of them.
When I was expecting my first child, I started being on social media, opened an Instagram account and shared some photos of the renovations and decorating work that we had done with my husband in our house. I felt a little 'awkward' at first, it was brand new, and I gradually learned how it worked. I then dedicated the account to interior design, homemade and named it Fee.maison : share ideas for renovating, DIY and decorating the house, how to update, improve, divert, repaint, decorate your interior yourself ?
The account has grown, and continues to grow, I'm so surprised at how big it is. Never would I have thought that the account would have reached this size and especially the impact it can have. I sincerely appreciate the community with their positive and caring messages that I can receive as soon as I share photos, recipes ... it's just amazing and I know how lucky I am. In a way, I am living in the moment. What surprises me the most is the strong bond that we can create with the members of the community, I invited them to my home and they have created habits and are delighted to share photos, tips and inspiration. It's an exchange !
To find the trapezoidal shelf foot, click here.
TALKING ABOUT INSPIRATION, WHERE YOU FIND IT AND HOW YOU RENEW IT ?
Some prefer to go shopping and window shopping in trendy and trendy boutiques. For me, it is without hesitation going to DIY stores: my senses are then highlighted, the sight with the colors, the smell with the smell of paints and materials and then touching it. I love to touch and smell wooden planks, to discover materials and materials. From there, imagination and inspiration burst forth, I see the furniture and objects that I could assemble with things that I already have at home, it's magic! I also dig a lot in attics and flea markets, I'm a fan of Pinterest.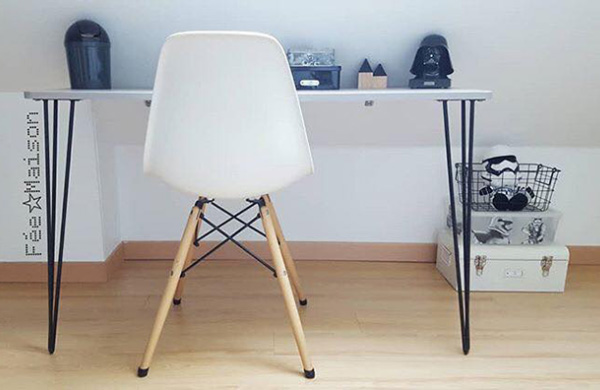 To find the reinforced pin foot 71cm, click here.
IT'S ALSO ON INSTAGRAM THAT YOU MEET É LA FABRIQUE?
Absolutely, Florent had just launched the Factory and I was starting Fee.Maison. I wanted to create nesting tables and a desk for my son. With La Fabrique's pin feet, I was easily able to create what I was looking for, I also enjoyed staging my creations and shared them with my community.
For me, the Fabrique des Pieds exudes a family atmosphere, that is to say respect and trust, it feels good! We know that the products are handmade, the artisanal value is strong. There is also a lot of modernity: the Fabrique creates inspiring feet like manufacturers, that can easily be mixed with other materials such as wood. It's a nifty, timeless wedding ring. I think that is why I often interact with Florent, the founder, we share the same journey, atypical and the deep desire to make beauty accessible to all.
To find the 30cm pin foot, click here. For the foot pin 40cm, click here.