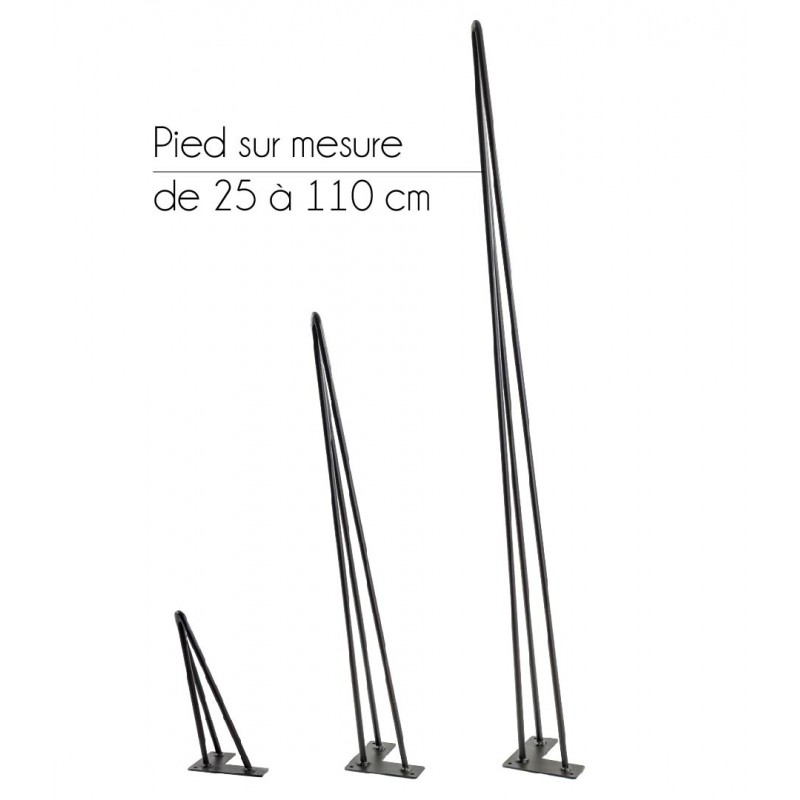  
Custom legs 3 re-inforced 25 cm to 110 cm - Hairpin legs
These steel legs are created in steel round rod of 10mm diameter. 
The plate measures 120mm over 120mm.
These legs are perfect to create low end tables, benches, dinning tables…). They adapt to an old table top or to a new top.
They are reinforced to support an heavy weight.
They are handmade. Our legs are real « hairpin legs ». The extremety of the legs are heated in order to get a very fine bend radius.
3 screws are necessary to fix the leg on the top of the table. (screws not provided)
The price is for 1 leg.
Data sheet
Height

de 20 cm à 110 cm

Plating Size

120 mm x 120 mm

Weight per 4 legs

200 kg

Point de fixation

3 holes of 7mm in diameter

Type de peinture

Thermolaquage

Style

Aérien

Forme de plateau

Carré, Rond, Rectangle, Ovale

Sur mesure

Oui

Central

Non

Par meuble

Banc, Bar, Bout de canapé, Bureau, Console, Ilot de cuisine, Mange debout, Meuble TV, Rehausser un meuble, Salle de bain, Table à manger, Table basse, Table haute, Tabouret

Par taille

Sur mesure