Our History
OUR HISTORY
2014
PASSIONNATE ABOUT DESIGN, PRETTY THINGS, CRAFTING AND ALSO CURIOUS ABOUT MATERIALS
Florent the founder was looking for legs to create a coffee table and he felt in love with steel.
On his spare time, he continue making legs and people were excited about them and to propose them on market places of design. Listening, sharing with fans of "DIY, Do it yourself" and designers only confirm to Florent that, design products, craftsmanship and materials are highly sought after.
2017
THIS IS IT, HE HAD TO JUMP INTO HIS PASSION AND MAKE IT A REALITY
He went back to school and develop his steel skills. Thanks to his strong expertise, he launched Fabrique des Pieds. The first legs made in Fabrique des Pieds, were shipped to a trendy parisien loft. Since then, more than 20 000 legs arrived in houses and lofts all over the world.
La Fabrique is « e-craft » company that associates traditional craftsmanship,with end to end fabrication of his products, constant innovating design and a strong digital strategy. La Fabrique provides his products all over the world and has a very strong community on Instagram.
« OUR LEGS BROKE INTO THE MEDIAS AND INSTAGRAM. »
2018
THE WORKSHOP AND ITS SHOWROOM
Authenticity is a key value of La Fabrique. The company openned part of its workshop based in Lille (France) to the public: a place where customers and passionnates about DIY can meet and see legs being made in front of them ! A place where the team creates the legs of the Future !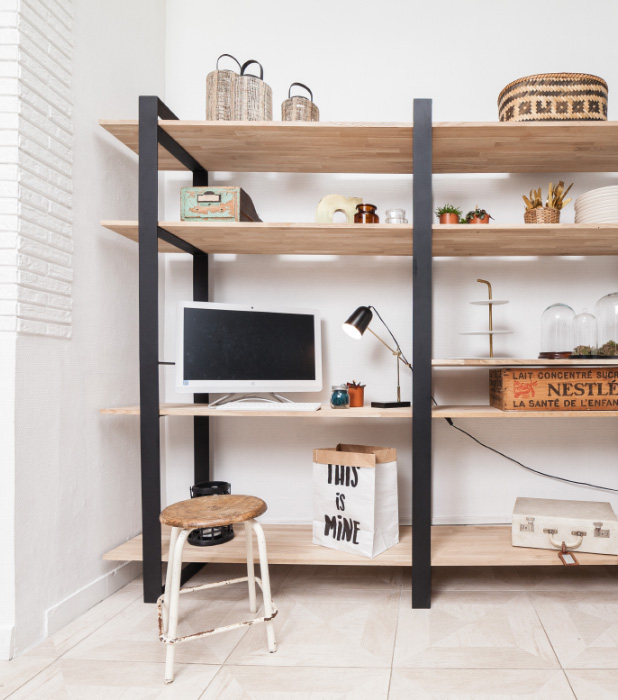 2019
A COLLECTION THAT EXTENDS AND INSPIRES
New feet add to the collection; our team imagines new designs to continue to make your furniture unique . Made-to-measure is very popular and La Fabrique offers more and more these standard made-to-measure models to give free rein to all projects.
2020
THE WORKSHOP ADAPTS AND GROWS
La Fabrique has been able to adapt to the particular events of this year thanks to a now larger workshop to manufacture even more stands. With this good news comes new heads that strengthen the team in manufacturing, logistics and offices.
OUR MISSIONS
La Fabrique has always done things differently : offer high end quality hand made products at an affordable price, create ongoing new legs collections with a minimum lead time and a consistent quality.
ARTISANAL QUALITY
AFFORDABLE PRICE
AESTHETIC FOOT
SHORT MANUFACTURE
CONSTANT QUALITY
THE TEAM
Florent, the founder
« In 2014, I was looking for legs to create a coffee table and I wasn't able to find what I was looking for. At this time, table legs were just brushed aluminium tubes, available in DIY superstores. I wanted to buy high end quality legs locally made at an affordable price.
Since I am kid, I always like designing and creating "nice things" : painting, furnitures... growing in the countryside, my roots are deeply in the ground and my head is in the sky. Preserve the planet, be smart when it comes to use Earth ressources, buy quality products have always motivated me when it comes to work.
For almost 8 years, I've consulted, managed and trained construction project teams in their strategy to build with a less impact on the environment. After this period, I really wanted to do "something with my hands" get back to my roots of creating with my hands. I went back to school to learn steel job and improve my expertise. And then, it was just clear, it was time to launch Fabrique des Pieds. I believe in challenge especially challenging codes and traditional trends. I believe in people and listening to their needs and I want to offer what France has the best. »
« WHAT A JOY TO DRAW, DESIGN, SHAPE, WELD, PAINT, COMPILE, AND SHIP LEGS ALL OVER THE WORLD, FROM OUR SHOP, BASED IN FRANCE ! »
The Fabrique des Pieds is growing; it is now made up of about twenty enthusiasts who live and think Feet every day : Amélie and Aline who animate and communicate with all customers, especially on social networks, Guillaume our graphic designer who creates and draws, Anaïs who accompany French and international customers, Steve, Maxime, Dylan and Dimitri who prepare, pamper and ship all orders. Diego and Aurélien who shape, weld, assemble and paint each of the feet. Maxime ensures flows in metalwork, ie stocks and that everyone is enough to work. Aurélien designs our new feet and our custom feet while Diego ensures the quality and manages the quality of each foot leaving the workshop and Maxime manages supply and production. And of course, Florent, the founder and conductor of this famous Fabrique des Pieds

Amélie
THE COMMUNICATOR
Diego
WELDER AND QUALITY ADVISOR
Anaïs
THE CUSTOMER SERVICE IN GOLD

Steve
THE MODERN PAINTER
Aurélien
THE DRAFTSMAN
Guillaume
LA FABRIQUE'S GRAPHIC DESIGNER
Dimitri
THE COMPETITION PACKER
Dylan
THE LARGE PARTS PACKER
Maxime
THE SWISS WORKSHOP KNIFE
Aline
THE COMMUNITY MANAGER
Wilfrid
CEO - right foot
Vincent
CEO - left foot
THE WORKSHOP
« ALL THE FEET ARE MADE FROM OUR WORKSHOP IN NORTHERN FRANCE, IN LA CHAPELLE D'ARMENTIERES. »
La Fabrique would be nothing without her workshop and the precious hands that create different feet every day. The workshop is attached to the showroom and offices. It is from this promiscuity between these 3 spaces that new collections of feet are born as regularly as the teams exchange. La Fabrique has complete control over the manufacturing of the feet because all the operations are carried out in its workshop : cutting, folding, welding, grinding, degreasing, painting and setting in furnace. La Fabrique ensures quality and can constantly improve to better meet the needs of its customers.