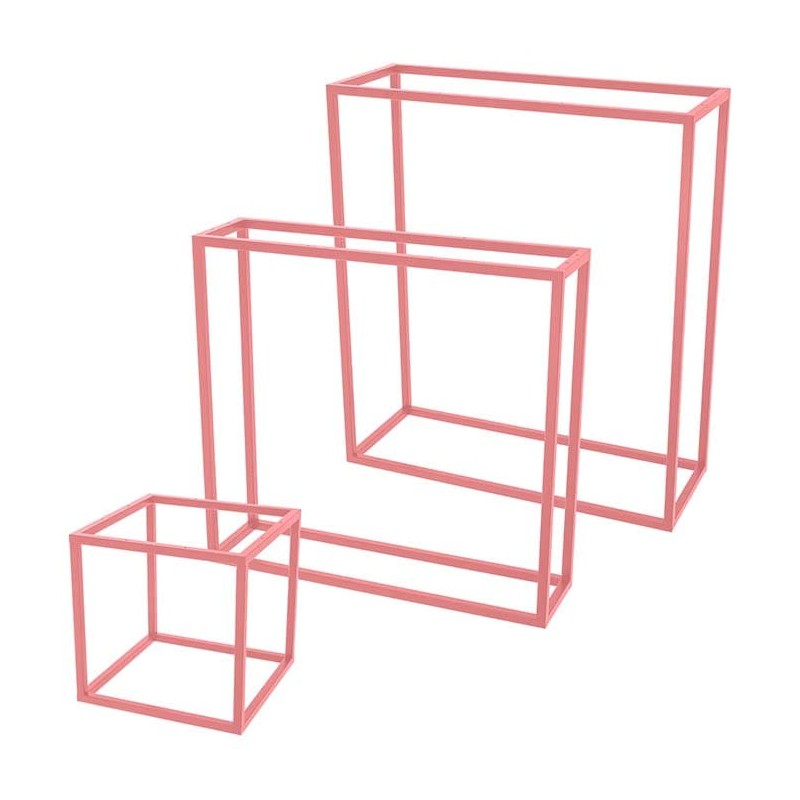  
Custom cubic structure
Custom cubic stand may suit your tailor-made projects of all dimensions. Choose the height, width and depth of the structure to the nearest centimeter, to imagine the bench, coffee table, console, end of sofa, etc., of your dreams.
With its industrial style and 4 colors , it will find its place in any interior.
Product sheets are optimized via Google Chrome and Safari browsers. If you encounter any difficulty in adding to the cart, we advise you to redirect yourself to these two browsers (on PC or mobile).
This foot fits in a line of uncluttered furniture with a graphic style. By playing on volumes, different types of furniture can be created to enhance your rooms. 
Manufacturing time: 4 to 6 weeks
Delivery time: 2 to 3 days
This foot is available in the size that you want from 15 to 110 cm, to the nearest centimeter. It has 8 fixing holes with a diameter of 7mm (screws not supplied). We recommend that you add felt to protect the floor.
The steel profile for manufacturing of this foot is 20x20x2mm. One foot can support up to 100 Kg.
This stand is sold individually and manufactured in our workshop in the North of France.
Product Details
Data sheet
Height

from 15 to 110 cm

Width

from 15 to 110 cm

Depth

from 15 to 110 cm

Weight per leg

100 Kg

Plating Size

/

Profil

20x20x2mm

Point de fixation

8 holes of 7mm diameter

Type de peinture

Thermolaquage

Style

Industriel

Forme de plateau

Rond, Carré, Rectangle, Ovale

Sur mesure

Oui

Central

Oui

Par meuble

Banc, Bout de canapé, Bureau, Console, Meuble TV, Rehausser un meuble, Salle de bain, Table à manger, Table basse, Tabouret

Par taille

40 cm
L'équipe de la Fabrique des Pieds fabrique des pieds sur mesure. Jetez un œil à notre catégorie « sur mesure » pour retrouver les déclinaisons que nous réalisons.

Ces pieds sont proposés en sur mesure centimètre par centimètre.

Si vous avez une demande spéciale ou imaginez un pied 100% sur mesure, contactez-nous dans la rubrique contact.

---
Reviews about this product

Show attestation
Livré dans la dernière limite et le produit et très satisfaisant conforme aux instruction . Satisfait ,